The Talent Lab at FIU in Washington, D.C. is a comprehensive program to ensure success for FIU students seeking the opportunity to make an impact on the world's greatest challenges through Fly-In Seminars, internships, and courses in the nation's capital.
Summer 2020 Impact Series
Our summer series of professional development programming is online and open to all!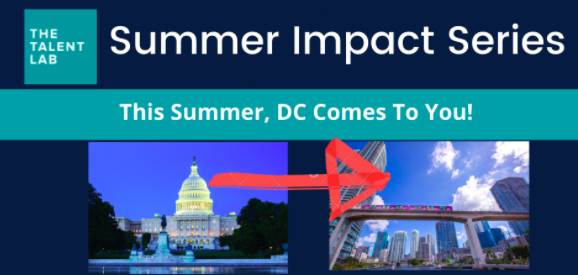 RSVP for our next event now! 
Topic
Guest(s)
RSVP

ELECTION 2020: Voter Access and Election Security

Tuesday, July 7 at 2PM via Zoom

-Hans​ von Spakovsky, Manager, Election Law Reform, Heritage Foundation
-Ricardo Ramírez, Voting Rights Advisor, Brennan Center for Justice
-Danielle Caputo, Legislative Affairs Counsel, Issue One

Click Here to RSVP
  Video of our previous sessions are available below:
Topic
Guest(s)
Video

Careers in Congress

-

Laura Hernandez

, 

Press Secretary

, Rep. Mario Diaz-Balart (FL-25)




-

Anya Martinez

, 

Staff Assistant

, Rep. Debbie Mucarsel-Powell (FL-26)




-

Cristofer Horta

, 

Legislative Assistant

, Rep. Donna Shalala (FL-27)

Click Here to View

Navigating the Unwritten Rules for Career Success

-Tinisha Agramonte, Director, Office of Civil Rights, U.S. Department of Commerce
Click Here To View

National Leadership in Times of Crisis: A Historal Perspective

-Joe Stoltz, Director of Leadership Programs, George Washington's Mount Vernon
Click Here to View
Click here to download the full draft schedule (dates subject to change); updates and RSVP links will be added to this page and announced through our Talent Lab Newsletter.
Programs

All of our Talent Lab programs are centered on principles of interdisciplinary, experiential learning and are designed with consistent learning outcomes that expose students to the most essential elements of Washington, D.C.'s policymaking infrastructure and the technical and professional skills needed to succeed in the city.