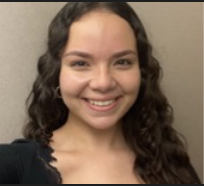 Alexandra Howard
Senate Budget Committee Democratic
---
Email: ahowa053@fiu.edu
Major: Political Science, Digital Communications and Media
Bio
Alexandra Howard is a senior at Florida International University and a student in the Honors College. She is double majoring in Political Science and Digital Communications and Media. With those degrees, she is determined to excel as an intern at both the Senate Budget Committee Democratic staff and FIU's Caplin News Washington D.C. News Bureau this fall semester.

Throughout her time at FIU, she has transitioned from Event Coordinator to Co-President at the Society of Professional Journalists FIU Chapter, which fosters excellence in young journalists in the South Florida community. She is also an executive board member at the Immigrant Scholars Organization which strives to provide educational resources to FlU's diverse immigrant student population. Alexandra has also written articles for the Coconut Grove Spotlight, PantherNOW, and Caplin News to inform local communities about political issues. With these leadership opportunities, she has developed impeccable communication skills to serve her community and participate in a wide range of discussions for local and global audiences.

As a Hamilton Scholar, she will focus on promoting diversity, equity, and inclusion initiatives in infrastructure and higher education. She believes those policy issues go hand-in-hand because, with proper spending measures and implementation of infrastructure legislation, low-income communities can have a chance for equitable access to education and be well-equipped to serve their communities. After her time at FIU, Alexandra is looking forward to attending law school to become an immigration attorney and a political and legal affairs journalist.